My need to downsize is a function of man hours and poundage – seriously, I've been schlepping 30 pounds of gear around on my shoulders since the turn of the century and the body is starting to tell me something: "Lighten UP!"
To that end, when Lowepro asked for my thoughts on their Rover Pro 45L AW bag, I jumped at the chance and am glad that I did.
BUILT FOR COMFORT
Straight out of the package, it is clear that the Rover Pro is born for the lightweight at heart. 

Triple rip-stop nylon construction with wide, padded shoulder straps and a large-buckled waist belt are hallmarks of Lowepro comfort by design that beg to be strapped on before the bag is even fully loaded.  And with a few tugs on the 4-point adjustment system, the entire pack is soon moving, bending and swaying with my center of gravity making it a natural extension of me.  However, it is not until later, when I am 20 minutes into a steep hike and under load, that I come to appreciate the Rover's webbed "trampoline-style" back panel which spreads the weight of my gear uniformly across my back and shoulders and allows air to pass freely between the bag and my body.  It's cool – quite literally, cool.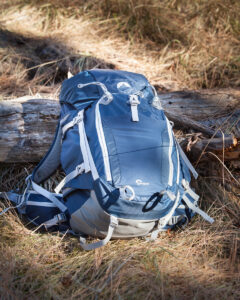 PACK IT UP
Comfort is great, but what about the load?  Photography is not a sideline for me, it's my bread and butter and ultimately, if a new bit of gear doesn't help me to take better pictures by allowing me to be better rested and faster on the draw, then hello eBay, that bit is gone and my quest for goodness continues.  On this count, the Rover Pro does something that my "go-to" bag frequently falls short on by offering ample separate storage for day tripping.
The day we head out on photo walkabout is unseasonably warm.  I have dressed for cool shade, but much of the Grey Canal Trail above Vernon, British Columbia is open range and the sun that day bumps temperatures into the high 20's (that's high 70's for all my Fahrenheit friends).  A trio of Red-tailed hawks (Buteo jamaicensis) plays on thermals overhead, but down at ground level I am getting pretty toasty.  Slipping off the bag, I find ample space in the top of the Rover to ditch my windbreaker and sweater alongside my lunch in the upper region of the bag and then take a draw of water from the H2O side pouch, which alternatively fits a couple frozen cans of beer quite nicely (so I am told).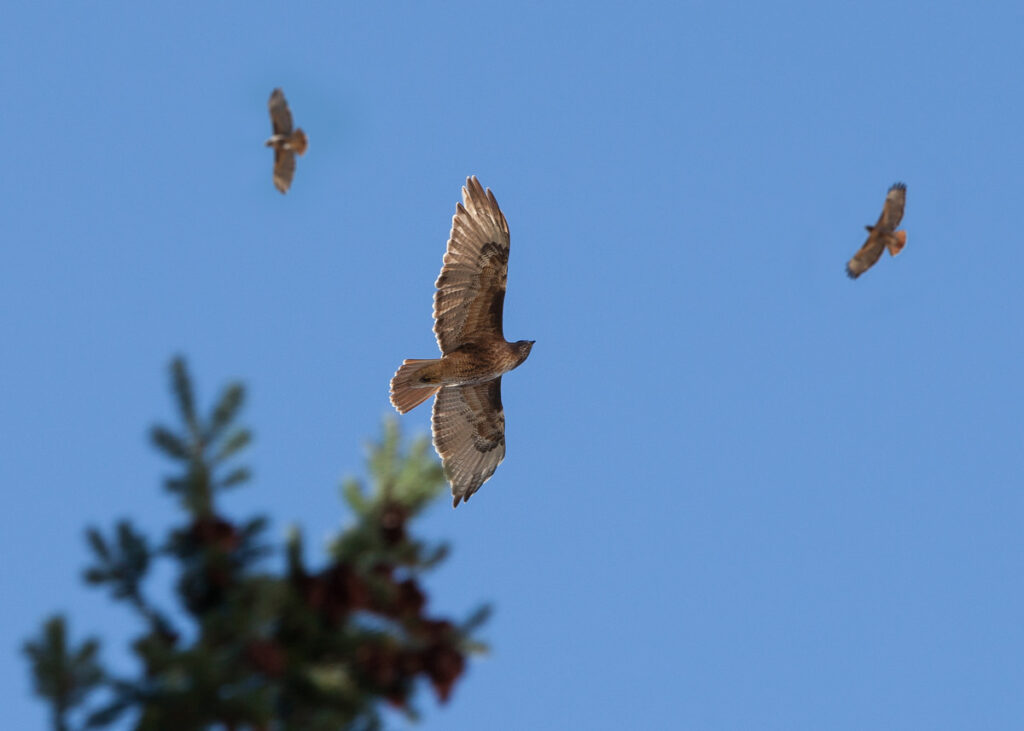 NICELY BALANCED
A well braced tripod sleeve is smartly incorporated on the opposite side of the bag which counterbalances the liquid load.
This is also a good time for a lens change.  A front flap with sturdy nylon loops for zipper pulls is easy to open – even with gloves on – and the zipper rides smoothly over teeth that look geared for thousands of cycles.   Inside are two removable padded gear cases with adjustable compartments that I've set up to stow my full frame dSLR with 70-200mm L-series mounted; a 24-70mm wide lens; a 580 EX II flash with pocket wizards; spare batteries; ND filter, polarizer, cleaning cloth; and a pound or two of other photo paraphernalia in separate zippered sleeves found in the case lid flaps.
EXTRA MILE DESIGN
The lengths to which Lowepro goes to maximize useful storage space in their design constantly amaze me.  Almost every flap of the bag is equipped with a zippered sleeve for storing flat items, like maps and other documents, energy bars, powdered drink mixes – you name it.  But my two favourite hidey-holes are on the outside of each waist belt pad where I keep my two most precious photo devices: a Petzel headlamp and hackysack ball.
 Finally, I would be remiss not to mention Lowepro's patented All Weather Cover the Rover Pro 45L AW backpack is equipped with.  Granted, we had fine weather on this particular trip and the waterproof shell was not required, but who knows – had more hawks started circling directly overhead, that shell could have come in quite handy after all.