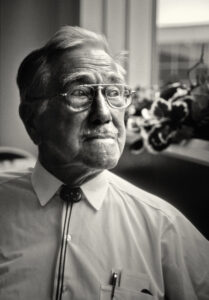 In my mind, O.B. Pulsifer, Sr. is the stuff of legends. A tough blend of maverick and enterprise; persistence that verged on stubborn logic and, yes, even deep emotion (though no one was supposed to know). It's quite likely that Alexander Keith's Ale coined their best slogan after hearing about Grampy because: "Those that liked [him], liked him a lot."
In fairness, the same could not be said of all. After reading a couple of his scathing letters to various politicians – from the Prime Minister on down – about democracy and how to restore it – I'm quite certain that he did have his detractors. But it being Armistice (Remembrance) Day, I am here to say that he should be numbered among a generation of countless heroes.
Gramp had his faults, don't get me wrong. When it came to family, communication was not a strong suit. He was a tough old bird and there was no point waiting to hear him say that he loved you. It was enough to know that he respected you. But that was the way for so many of his generation: men who had served in a world war, and who postured themselves like soldiers thereafter.
'O.B.' got his wings from Billy Bishop himself prior to WWII and served as commanding officer of CFB Pendleton, ON during the war.  The man personified machismo and was clearly more comfortable around an engine block than a baby's cradle.
Yet, the memories I have of him are fond:  Of sitting on his lap one brilliant afternoon aboard the Cape Islander he re-fitted; listening to his hearty laugh as this 6 year-old tried to hold course at the wheel; getting a crash course in radar navigation, peering through the scope until my face was ringed with marks that made me look like a raccoon, and of being left there with my sister Beth to navigate the ship. Two toddlers in charge.
I remember prickly grass on bare feet as I ran, again to sit with him, this time in the engine of a miniature train he built as part of a small amusement park on a stretch of Crystal Crescent Beach that has since become a Provincial Park. I remember feeling important ringing the bell as the train rolled along.
And I know of days that put the strong back on me: labeling, filling, lugging bottled water at the Sparkling Spring Water plant in Greenfield, Nova Scotia. Management's lunch was a Burlington bun and a bottle of beer – child laborers were usually better fed. But the perks often included a dip in the swimming hole at Black Rock, a mile or two up the road. I learned to drive on that road well before the age of 16.
More recently I remember lunch with Gramp at Peggy's Cove. The two of us sneaked off there after his 90th birthday celebration. We sat in the restaurant over coffee, being honest with each other about our trials, our victories and our hopes. At 90 he still brimmed with hope as he shared with me his plans to develop a creekside hammermill, a submersible drilling rig, and white roofing shingles that would reflect the summer's heat.
The day I leanred of Grampy's passing, I didn't cry right away. He was 92, stepping out of the driver's seat of his car. He still had his boots on.
You gotta respect that; I love you Gramp.