East Samar, Philippines – Nov. 8, 2013 – Typhoon Yolanda (Haiyan) hits land in the central islands of the Philippines with wind gusts over 300 km/hr – 6,340 people died in the largest typhoon in recorded history. 100 days later, relief efforts were packing up after only just beginning to make an impact.

 
It's been 2 years since Yolanda – the worlds largest typhoon to make landfall in recorded history – devastated the central Philippines killing 6,340 people.  It destroyed villages, fishing fleets, and coconut groves to the horizon. For months, world relief agencies worked to maintain basic needs in tent cities, but what happens to affected communities in the months after the reporters leave and the big white trucks go home?
Relief, Recovery and Reconstruction: These are the three R's of humanitarian aid intended for communities affected by a natural disaster. They are as solid as a three-legged milking stool, but knock one leg out and the whole process hits the floor.
Major natural disasters of the past decade expose a weak link in the chain of humanitarian aid that exists between emergency disaster relief (short term triage) and post-disaster reconstruction (long term development). Sadly, in the transition from relief to reconstruction – when emotional and spiritual recovery, child education and interim livelihood projects should be addressed – there lies a vacuum. And it is into this gap that greed, inefficiency and corruption from all levels of business and government seem to creep. Like it or not, there are fortunes at work in disaster zones, as the following chart suggests.
| | | | | |
| --- | --- | --- | --- | --- |
| Event | Date | Death Toll | Displaced Persons | Total Donations* |
| Indian Ocean: Tsunami | 2004 | > 250,000 | 1.7M | $6.2 B |
| USA: Hurricane Katrina | 2005 | 1,833 | 1M | $854 M |
| Haiti: 7.0 Earthquake | 2010 | ~ 230,000 to 316,000 | 1.5M | $3.5 B |
| Philippines: Typhoon Yolanda | 2013 | > 6,300 | 4 M | $844 M |
*gathered from US Embassy Report.
In the last two decades, we have seen an unprecedented rise in the number and extent of climatic and geologic natural disasters. We have also seen unprecedented generosity on the part of countries, corporations and individual donors from around the world.
Author Tony Lloyd-Jones, in a report called "Mind the Gap"[1], argues strongly that it is not for want of money that humanitarian relief efforts fail; rather, it is the lack of local expertise and political will, coupled with poor accounting practices that are the problem.  So there you have it – inefficient relief efforts create a backlash effect on donor trust that leads people to either withdraw support or find smaller, more indigenous agencies on the ground – or as you'll learn, by going in themselves!
* * *
Standing in the Gap
"I looked for someone among them who would build up the wall and stand before me in the gap on behalf of the land so I would not have to destroy it,…"  Ezekiel 22:30a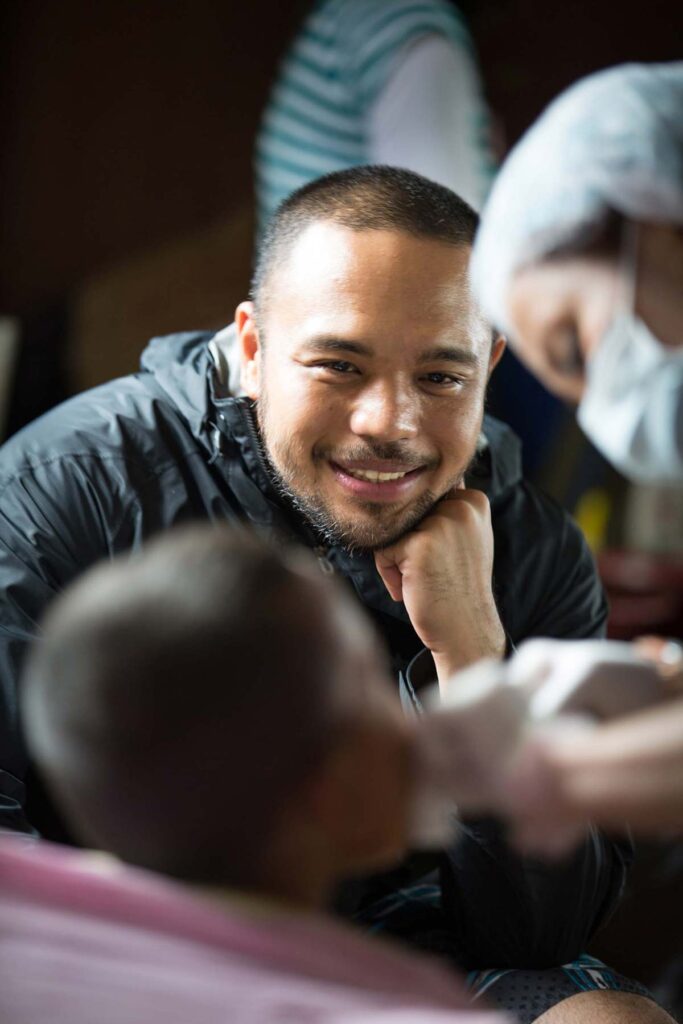 Relief Operation Coordinator, Dr. Tiger Garrido, smiles at a young boy undergoing a tooth extraction at a makeshift clinic during a medical relief operation near Guiuan, East Samar, Philippines.
As 240 km/hr winds of Typhoon Yolanda blasted Tacloban and Guiuan in Samar, Dr. Tiger "Doc" Garrido, a 34 year-old orthopedic surgeon from Manila watched the news with grim compassion.
Scrounging together all the medical supplies he could find, 'Doc Tiger' sent 40 large boxes ahead and was one of the first waves of professionals to land in Guiuan, on the open Pacific side of the island. There, he stumbled upon members of Operation Blessing, the disaster relief wing of the 700 Club; and together with military personnel and local survivors he worked for a week straight before returning to Manila.
While back in Manila, stories of rotting warehouse food, misdirected supplies and other more gruesome tales reached his ears. Taking time away from his practice, 'Doc Tiger' initiated a series of self-funded medical missions, and over the following months led teams of volunteer doctors, dentists and tradesmen back to Guiuan to help recovery efforts.
'Doc' is proof positive that one person, working with others, can make a difference.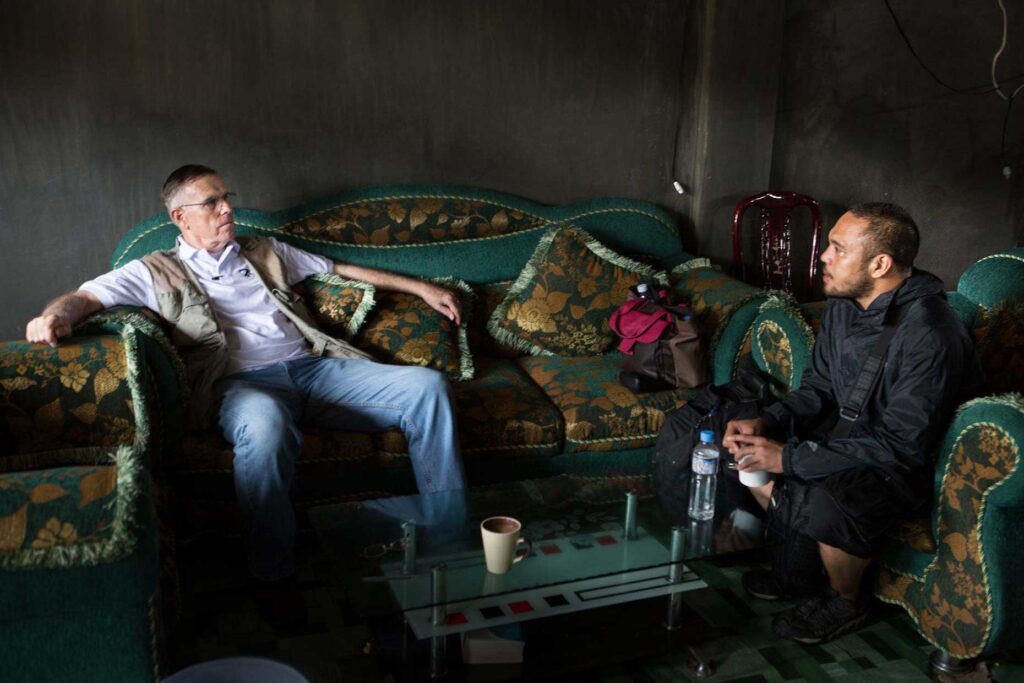 Thinking Ahead
To bridge the gap, governments and aid groups working in vulnerable regions must have concrete action plans drafted and tested, before natural disasters occur. These plans will allow International aid and qualified volunteers to partner with local labour and government to be more effective and accountable, so that affected communities receive maximum benefit from the recovery phase of post disaster relief.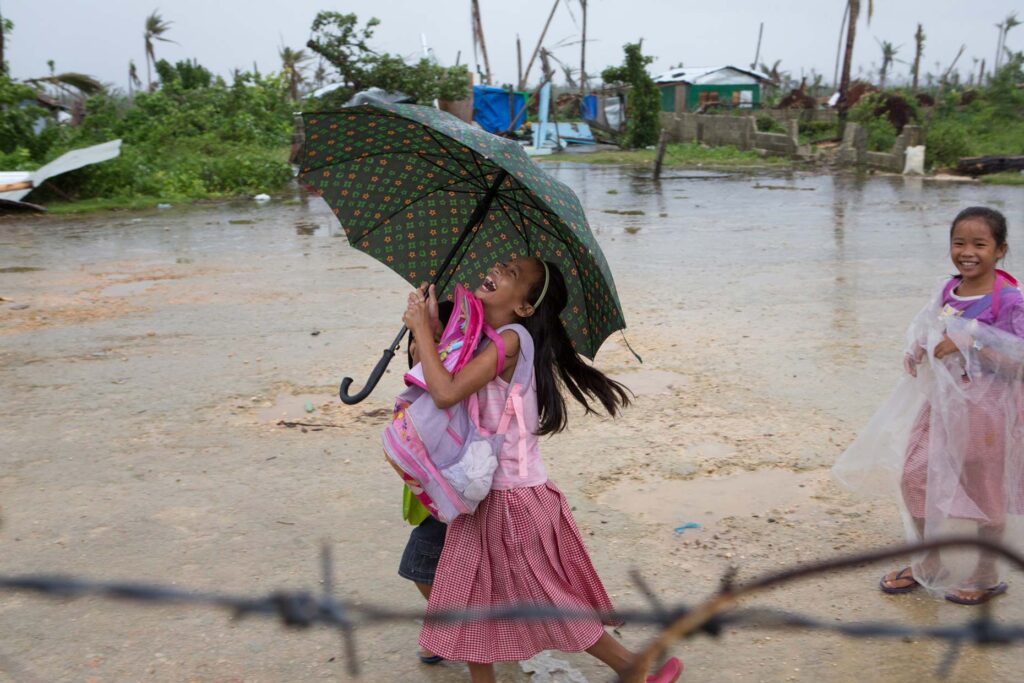 * * *
Want to get involved?
7 Tips for becoming an International Aid Worker:
http://www.forbes.com/sites/alexandratalty/2013/10/10/millenial-thursdays-the-down-and-dirty-of-international-aid-work/
Volunteers: Don't be the disaster:
http://www.coyotecommunications.com/stuff/vols_in_disasters.html
A gallery of more images to this story can be FOUND HERE.
Further Reading:
[1] Mind the gap! Post-disaster reconstruction and the transition from humanitarian relief; Lloyd-Jones, Tony; Royal Institution of Chartered Surveyors; 2006; pp.104