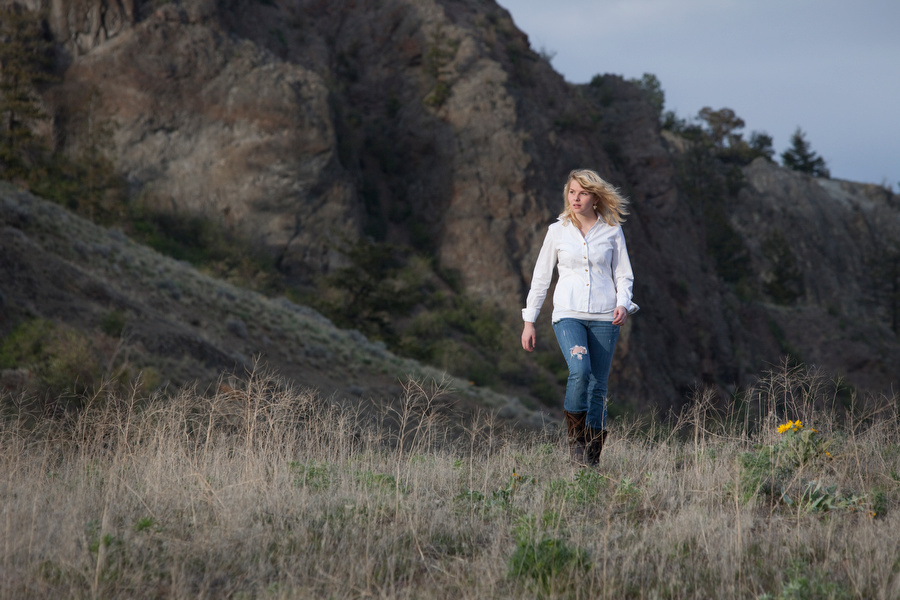 Warm raking light bathes the textured background of crumbling volcanic stone that juts upward from the sage covered hills.  Ponderosa pines line the ridge, wind-bent but proud in the semi-arid terrain.  Two coyotes skirt our perimeter and  I assure my assistant, the stylist and our model, Lindsay, that they are more afraid of us than we are of them.
"Easy for you to say," says my assistant, Leslie, "you've got the tripod to swing."
I had scouted this location long before the coyotes started scouting us and the day was postponed once already because of weather, so it would take more than wild dogs to prevent me from enjoying this moment.  But I had not counted on just how hostile the North Okanagan could be.
On our very first set up, I crouch for a low angle of Lindsay against the hillside and get a butt full of barbed cactus!  Then, as Linds hits some relaxed poses by a fantastic rock outcrop and Leslie and I are sculpting light with a collapsible reflector,things come to a shrieking halt when Leslie jumps straight back.
"Snake!" she hollars, pointing to the outcrop.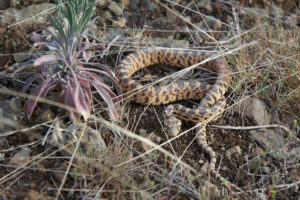 Sure enough, within arms reach of Lindsay is a three-foot long Night snake sunning itself on the rock.  Looking much like a small rattlesnake, the creature is mercifully quite timid, only mildly poisonous and in fact an endangered species, according to the Committee on the Status of Endangered Wildlife in Canada (COSEWIC).
Moving on, we have one last shocker… a Black Widow spider the size of a piece of popcorn crawls through the grass at our feet as we pack up to leave.  Now that's a wrap!