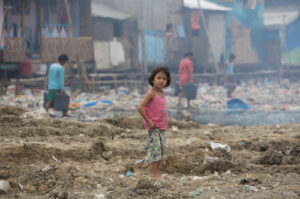 First week in Philippines is behind us know.
We have jumped the jetlag and spent the past 3 days helping at several feeding programs for the urban poor… a real mind-twister at some level, but in truth: it just seems like the right thing to do – normal.
So far have visited two squatters villages and, today met with rescued street kids and then visited the neighborhood where many came from and hung out with kids there. Puts a new layer onto our understanding of earthy…
On one hand, folks are so needy here, but on the other hand they've got this indominable spirit, a tribal loyalty, that is nothing short of inspiring. Our own tribe is growing leaps and bounds through it all 2B sure.
Tomorrow visiting an orphanage… all part of the holistic effort of our hosts Action International to feed body, mind and soul of street kids here.